Soaring commodity prices, rising social pressures, a switch in strategy, or new features within your offer, there are a ton of reasons to raise your prices, especially when profitability declines.
While changing the price of your product for future customers is an easy task, doing it for existing customers is a much more delicate task to approach.
Whether you already have an objective motivation to increase your selling prices or are still considering it, we tackle all the difficult questions in this article. What justifies a change in price for existing subscriptions? How do you change the prices in WooCommerce? How do you introduce it to your customers?
Why would you need to change the price of your subscriptions?
Reason 1: To offer higher added-value products or services
One reason to increase your prices is to offer a more complete product or service. Many customers are willing to pay a little more for an improved service that better addresses their concerns.
This could be an update to the technical characteristics of your product, like functionalities, options offered, technological innovation, but also the associated services, like after-sales service, warranty, quality of customer service.
To be successful as a business, you need to stay as close as possible to technological changes and market trends. This is why an increase in your prices may be necessary to be able to adapt to the requirements of your sector.
Reason 2: To adapt your prices to the changes in cost of running your business
A second reason to consider increasing your prices is a change to the general costs that surround your business. For many businesses, a price increase is necessary in order to continue to generate the same margins.
With changes or increases of cost to raw materials or manufacturers, inflation, business taxes, or insurance and fixed costs, the more the business progresses, the more it will be subject to an increase in its spending.
An increase in your selling prices will allow you to compensate for the changes in your dynamic costs.
Reason 3: Focus on the right customers and improve your profitability
There is nothing wrong with wanting to improve your profitability. Increasing your prices could be a great way to earn the same profits while working less.
By increasing the sales price and quality of your product, you may potentially lose some customers, but the customers who continue to pay will help improve your profitability.
If you think your service or product is worth it, why not adjust your prices to reflect that and grow your business even faster?
How to change the price of your subscriptions in WooCommerce?
There is no feature in the WooCommerce or WooCommerce subscription plugins that allows you to change the price of older subscriptions.
You can change the price of the subscription for your new customers, but the change will not update the existing subscriptions.
However, you can change the price of existing subscriptions in 3 easy steps with the WooCommerce existing subscriptions update plugin.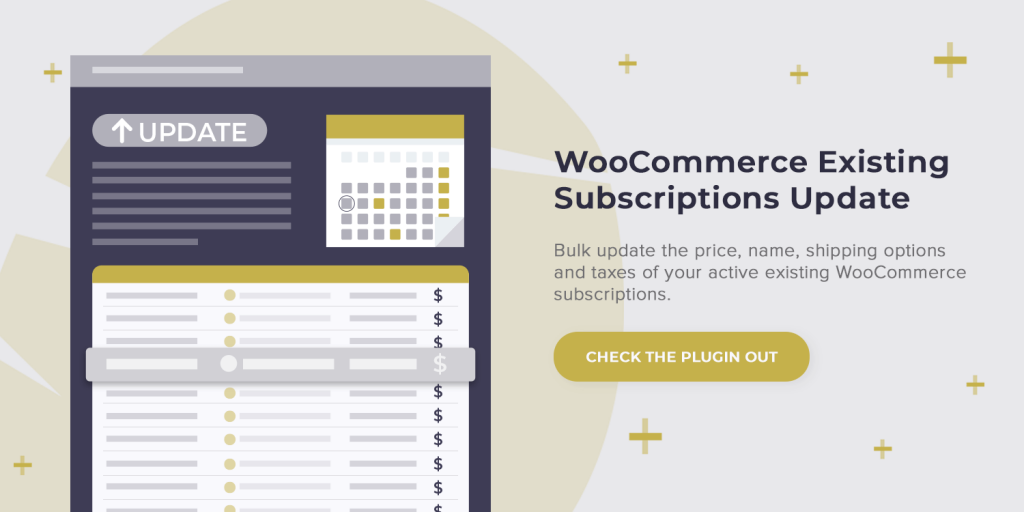 3 steps to update the subscriptions
Step 1: Select which subscriptions you want to update – Select the product affected by when the order for the subscription was made. You can apply different price updates depending on how long the customer has been subscribed to your offer. You can exclude subscription IDs if you want to shield certain customers from the price hike.
Step 2: Setup the new price – Enter the new price in the price field.
Step 3: Apply the changes and update the price of the existing subscription – Click on the update button. That's it! You'll get a confirmation of the changes.
Before changing the price you can easily preview the changes to see how and which subscriptions would be affected, and you can send a notification email in advance to warn the customers of the upcoming change. You can also opt to send an email when you apply the changes.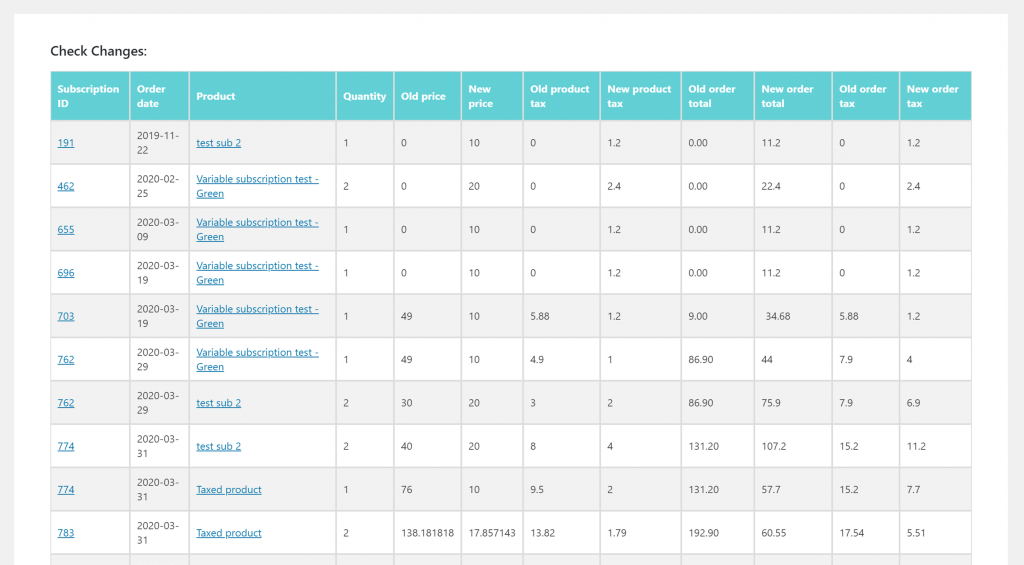 How do you announce it to your customers?
Whatever the motivations and the circumstances, increasing the price on an existing subscription is not an easy task, especially if the change is critical to some customers.
Make sure you have a strong argument for the value that you bring your customers by increasing the prices, and for why you are increasing the prices.
Here are our best tips to sweeten the delivery, even with the most price-sensitive customers.
Notify your customers in advance to avoid the surprise effect
The worst possible thing to do is to deliver the news unexpectedly. Customers will not appreciate being surprised with a price increase.
To avoid angering your client, you must notify them in advance. Prepare them for this possibility several weeks before implementing your price change.
Send them an email mentioning the future price increase without giving a specific date. Something along the lines of: "given the current context of (reasons), (my business) will likely implement price increases soon, and because you are a valued customer, we wanted to let you know now ". Then, send another reminder email to make the warning official and add a date for when the change will take place.
You can use the email feature of the WooCommerce existing subscriptions update plugin to send an email to all your affected customers before applying the change and then again when you update the price.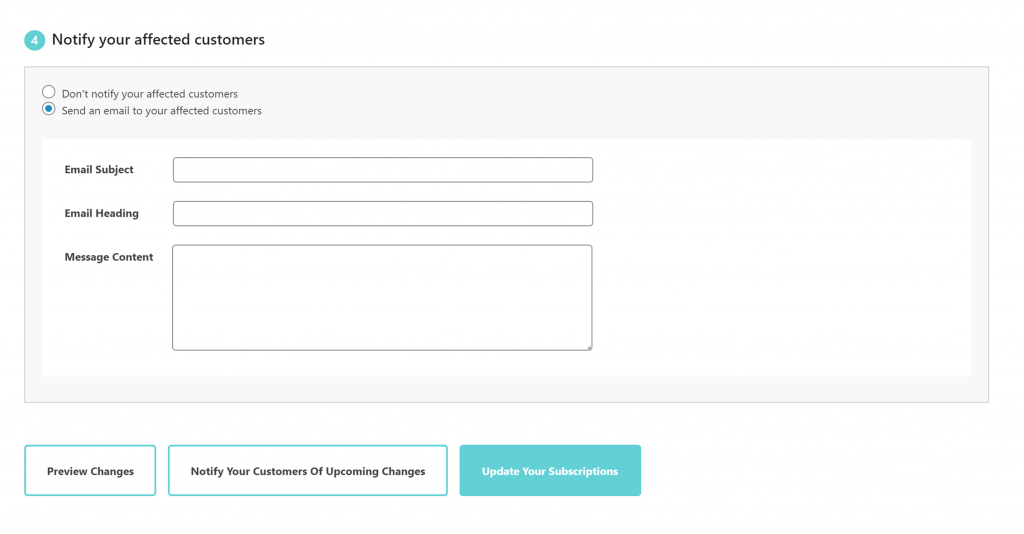 Pro tip: you can choose to lower the price increase in the second email, offering a lower price than expected. By providing a lower price than previously announced to your customers, this decision will be taken more lightly, and hopefully, you will not lose many customers.
Avoid being catastrophic or dramatic, but do not minimize the change either. Your customers will appreciate this.
Be transparent about the reasons for the price rise
Rising raw material prices, economic environment, changes in supply, etc, there are many reasons for you to increase your prices. In order to prove your respect for your customers, if you can, explain the reason for the change and provide evidence for the reason:
For example: "Our supplier's tariffs increased by 15%, which impacted our costs of goods, forcing us to increase our prices by X% in order to make payroll for our wonderful staff that bring you this lovely product."
This type of explanation will prove the legitimacy of your decision, easing any doubt your customers had that your business was trying to take advantage of them.
Highlight a change of offer
Whether you are improving your product, making it easier to use or more efficient, there are many reasons to change your prices. But you need to highlight the change and be able to convince your customers.
Make sure your communication is clear, specifying the new characteristics of the product and the advantages that the customer will find: better quality materials, more efficient equipment, improved know-how, faster service, etc…
Justifying an increase in prices by a general improvement in services will help maintain an image of professionalism, and will help build confidence and satisfaction in your customers.
By highlighting what is better about your product, you will succeed in building customer loyalty and a strong brand image.
Stay open to negotiation or grand-fathering certain customers
If some customers are very reluctant to face the increase, stay open to finding a compromise by offering counterparts.
You can offer a lower price, to thank them for their loyalty. You can offer a bigger discount for long-term customers.
With our WooCommerce existing subscriptions update plugin, you can change the subscriptions based on when the initial order was made. This way, you can adapt the increases depending on how long the customer has been purchasing your services.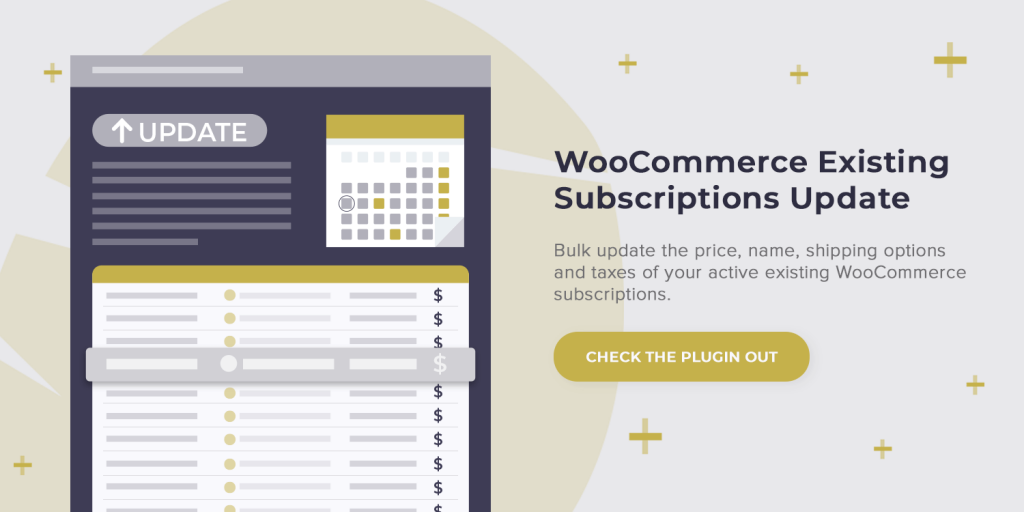 Pay attention to your timing
Choose wisely when you will announce your increase. Think about your relationships with your customers and decide on the right timing accordingly. For example, don't advertise an increase in price when you know your customers have financial difficulties, such as during the COVID-19 lockdown.
Wait a bit before announcing such an increase to customers who are not yet satisfied with your services or uncertain about whether they really need your services.
Conclusion
There is often apprehension about rising prices for existing customers with the fear of losing them or not knowing how to communicate these types of changes. However, raising prices can have, beyond the obvious financial gain, real benefits from a strategic point of view for your business.
Keep in mind that you are there to run a business. It would be a shame not to raise your rates at the right time to guarantee the financial health of your business. Hope we've given you all the tools to take the bull by the horns and increase your prices when necessary in order to ensure financial stability.